Master ICT in Data Science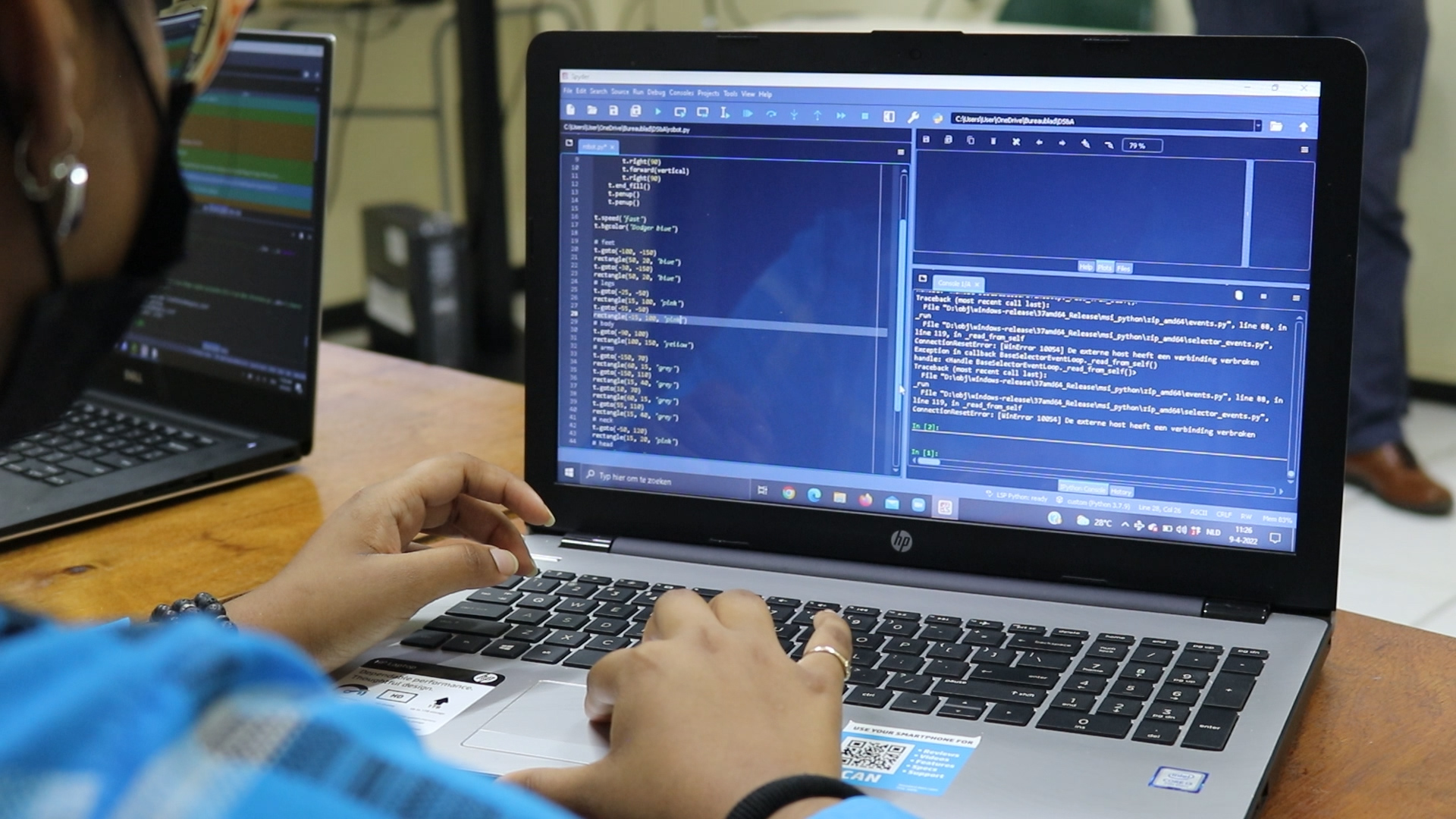 Why choose this Master's Program? Make the most of the unique features of the Master:
You will start programming, learning and applying data science methods from day 1 of the master's. Out of the two years, you can do more than one year of coursework in collaboration with businesses providing real-life data challenges. This practical experience is extremely appreciated by future employers and will allow you to launch your career in a way that you can help the businesses to take right decision with your Data analytics expertise.

Study and work as part of a close-knit and interactive community of students, researchers and companies.

Graduate with a diploma awarded by both The Polytechnic College Suriname University of Applied Sciences and Praxis Business School.
Data Science program is a intersection of disciplines like Statistics & Machine Learning, Programming, Business Management & Communication. The full-time Post Graduate Program (PGP) in Data Science is designed to address all three in significant depth.
Technology Skills: an understanding of a wide range of tools like Python, R, Spark, Excel, SQL, SAS, Hadoop, MongoDB (NOSQL), Amazon AWS (EMR / EC2), QlikView and Tableau that are commonly used to extract, analyse and visualize data.
Statistical Modeling and Analytical Skills: knowledge of Statistics, Data Mining, Machine Learning and Deep Learning techniques and the ability to create predictive models.
Applying data science to business situations: a fair understanding of business functions like marketing, finance, human resources, operations and the application of Analytics in verticals like BFSI, retail, telecom, healthcare etc.
Communication and Visualization: the ability to tell an effective story through Data and Infographics.
Graduates with a minimum of 60% from any of the disciplines from recognized university – BE/B.tech/B.Sc, with Mathematics/statistics as one of the subjects.
Pre-College master's program is intended for students who don't have sufficient knowledge of statistics and mathematics. We offer a 4 to 6 weeks of pre-master's program. Contact our admission officers to see what the pre-master could look like for you depending on your background and experience.
As a graduate you have excellent career opportunities. You possess a deep scientific understanding grounded in practical experience from working on real-life cases. Together with a valuable professional network, you will be fully equipped to enter the job market with an ever-growing number of data science and AI-related vacancies. Not only in the Suriname but also worldwide.
Knowledge and skills Next to the knowledge in data engineering, data analytics, decision-making, business development, and legal and ethical disciplines, you will be explicitly trained in a set of essential professional skills, such as:
Creative thinking, communicating, presenting, negotiating, debating, interviewing, and pitching. You will be practicing these in the In Action courses with real-life data.

By engaging with the company stakeholders, you will learn to shape the problem definition and select and apply the methods that fit the problem – not vice versa.
In addition to the professional skills, you will be educated in academic skills, that will allow you to find and understand scientific articles, and do your own research in the core scientific disciplines covered by the program.
Endless opportunities
This ensures that career opportunities are endless. You can manage your own data science company, finding new markets and opportunities with data. Within an organization, you are the one who translates a variety of issues into technical data insights. You make sure this lands in the business, thereby improving its performance. Or you can work as a data consultant or analyst: from advising companies who want to know more about the purchasing behavior of their customers, to using big data supporting police crime detection work, to helping healthcare institutes.
The program is driven by the overarching purpose of creating resources that will play leadership roles in the tech and data-driven digital world. The specific objective of the Master's Program in Data Science with ML and AI is to empower the learners to transition into the exciting world of Data Science, and everything about the program – the design, the delivery, the assessment methods – is aligned to achieve this objective.
Learning Outcomes
Students who have completed the Master's Program in Data Science will be, through immersive learning, collaboration with peers, and hands-on-experience, be able to:
Apply quantitative modelling techniques to solve real-world business problems, interpret findings, 

and present results using data visualization techniques.

Obtain, clean, and transform data.
Employ cutting edge tools and technologies to analyse structured, semi-structured, and unstructured Big Data.
Demonstrate knowledge of statistical data analysis, machine learning, and deep learning techniques in data-driven decision making across multiple functions and industry verticals.
Recognize ethical issues related to data security, integrity, and privacy.
Work effectively in teams, demonstrate leadership and decision-making skills.
Inschrijven voor dit programma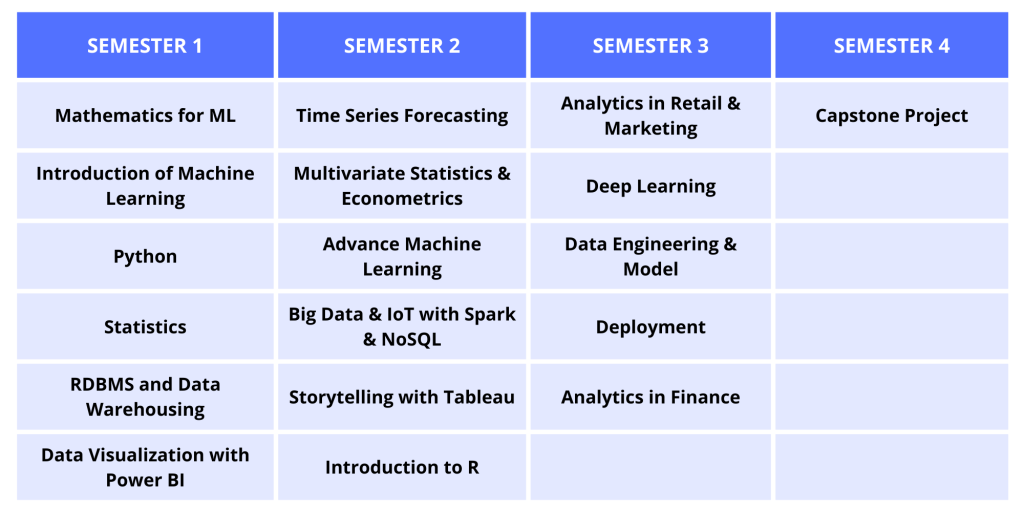 Maak contact met de Program Manager
Priyanka Kumari BCA, MBA
ICT Program Manager
Gerelateerde trainingen & cursussen